Do you want to change your lifestyle? To be healthier and fitter than you are now? Do you want to lose weight, tone up & feel better about yourself?
If so, you've come to the right place. There are many ways in which you can change and you will find something on my website that works for you.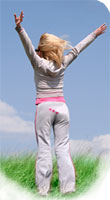 Firstly, what activity do you want to do? Hopefully, it's something you'll enjoy. Have you thought about walking, running, cycling, swimming, lifting weights, going to the gym, Nordic walking, exercising at home, participating in a physical charity challenge, going on a fitness holiday, attending classes, weightloss/inch loss nutritional advice, or perhaps doing some other weird and wonderful activity?
Secondly, where do you want to do your chosen activity? In the privacy of your own home, in a private studio or gym, in a class or outdoors?
Finally, this is where I come in, as your personal fitness trainer. How do you want me to help you? I can be your personal trainer or your exercise buddy. I also organise running groups in Clevedon and Winscombe, and Nordic Walking classes.
Find out more, right here...
I offer a mobile service in and around North Somerset and can meet a client at their home or office as well as at a private gym in Winscombe. I bring all necessary equipment with me in the van.

If you are considering personal training as a step towards a healthier and fitter lifestyle or are ready to make a healthy change to your lifestyle now why not pick up the phone today and arrange for a FREE consultation with me to discuss your needs at a time and place to suit you.

"I am totally amazed, I cannot believe I just ran a half marathon!! There is no way I would have done that without Emma. She has given me the self belief and desire to do this for myself"